ClearView is passionate about supporting the local community and charities. Last year we installed a free CCTV and intruder system for Sanctus homeless shelter. We found it an impossible decision to choose and agree upon a local charity organisation in which to make such a donation. We thought it would be best to contact the local Police and ask for their advice and recommendations of which charities would be most beneficial of a new security system. It was from this we were informed about Sanctus. This year we are wanting to help another homeless shelter in our local community during these uncertain times, which brought our attention to CHESS (Churches Homeless Emergency Support Scheme).
Established in 1990, CHESS is a homeless shelter in Chelmsford which works to ensure that's anyone who finds themselves homeless and vulnerable across Essex, are provided not only accommodation but the sustenance, support and guidance needed to enrich their future and re-join society without discrimination or judgement. CHESS is highly important to the local community as it offers:
A lifeline for the vulnerable and homeless in our city
Shelter from the cold and loneliness
A safe warm space to eat and be around others
Help to those in need to get back on their feet
Rebuilding the community from bottom up
Regeneration of social values
When pandemic hit, CHESS was left no option but to close their doors due to shared facilities not adhering to COVID restrictions set out earlier in the year. Since then the shelter has put additional safety measures in place to meet the restrictions and have now reopened their doors to provide support to the local community in need.
ClearView wanted to guarantee that the shelter has all the support it needed to operate during these uncertain times and help eliminate the risk of the spread of COVID19 to residence and staff.
We have carried out a site survey to establish how we can improve the site's security and safety and spoke with staff to gain an understanding of what security systems, PPE and equipment they are in need of. This shaped the services we planned to provide the shelter.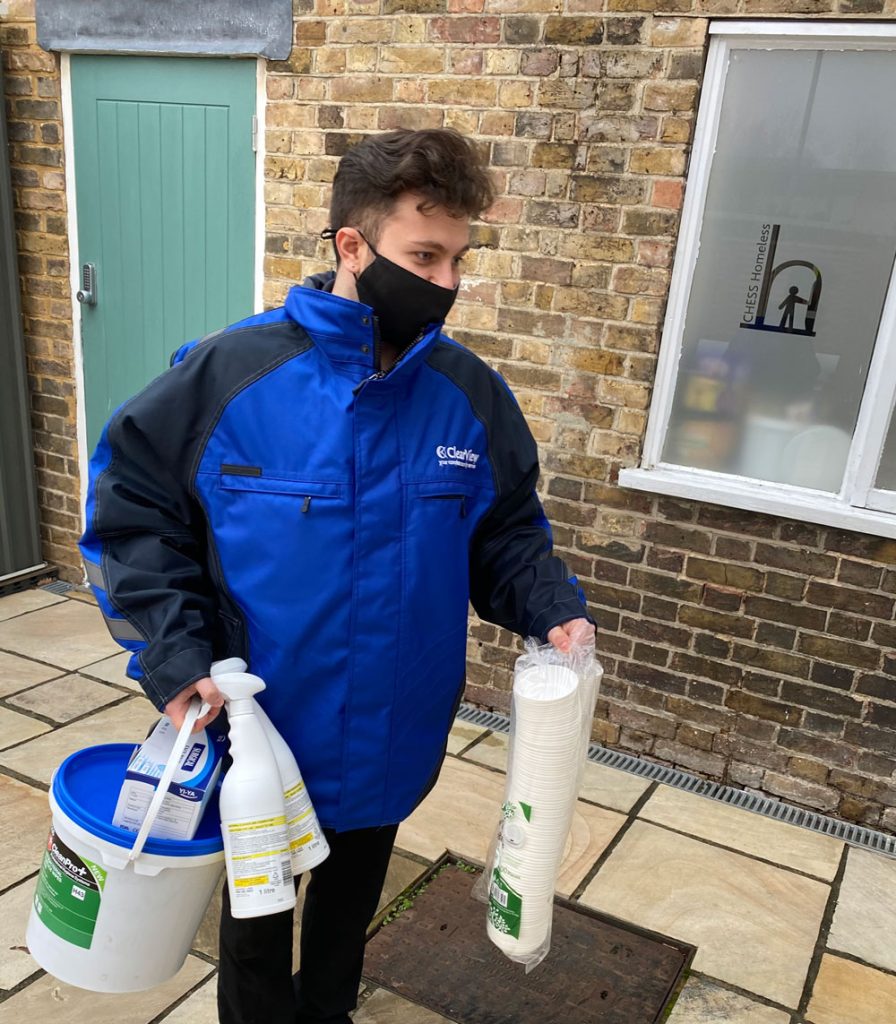 We have provided the shelter with a Covid secure access control system, installing a contactless exit button in order to reduce unnecessary contact and risk of infection. This system has been provided free of charge to help those who use and work at CHESS to feel safe and less vulnerable. ClearView have also provided CHESS with all the necessary PPE, antibacterial and anti-viral products so they are able to operate safely and manage during the pandemic whilst safeguarding staff and residents.
As the shelter has had to reduce its overnight capacity, we will be providing takeaway containers and cutlery, so they can continue their services and provide meals to all rough sleepers and vulnerable people. Although CHESS had risk assessments in place, we sent our HSQE Manager to the site to help advise on how to minimize the risk of contracting Coronavirus and to offer any assistance in creating and improving their risk assessments.
"We would like to thank Clearview for the temperature gun, face masks, hand sanitiser plus contactless door access control installation which will make staff and service users safer and reduce the risk of infection whilst providing our service to people who would otherwise be homeless. The takeaway dishes and cups will ensure we can provide a hot drink and meal to people currently rough sleeping to help them through the winter despite the pandemic. Thank you for your professional service enabling these items to be donated ad making life easier – staff love the new contactless exit!"
Barbara – Manager – CHESS.