Electric gates & Barriers
All our commercial gate and barrier systems are fitted to regulated industry standards for the highest level of security.
Get in touch
Call us on 01245 214100
why choose us?
Commercial grade electric gate & automated barriers
For over twenty years, ClearView have specialised in the installation, maintenance and automation of commercial grade gate and barrier systems. This includes specialist applications for; office suites, car parks, care homes and other commercial / industrial locations.
Our head office in Essex along with our new Suffolk branch gives us the perfect position to serve locations across London and the South East with class-leading products and service delivery.
We won't be beaten on price on like for like installations across London, Essex, Suffolk & Norfolk. Please complete the form or give us a call for a no obligation quote and site survey.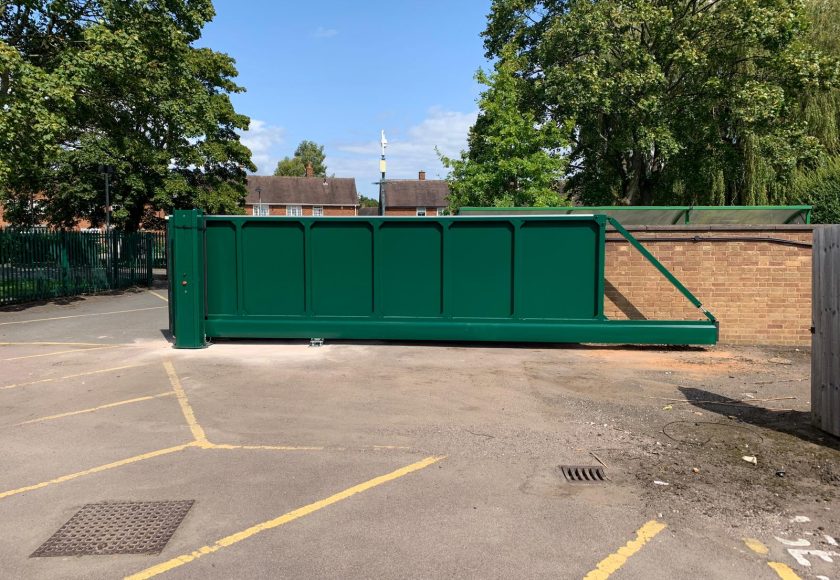 Download the brochure (5.1MB)
Or complete the form below and one of our advisors will be happy to assist you. 
Rest assured, quality service comes as standard:
Extended Warranties
Highly accredited
Industry leading installation times
200+ 5-star reviews
Free estimates
100% satisfaction guaranteed
what are the benefits?
Our automated gate & barrier systems
The presence of electric gates or security barriers provides both peace of mind and added protection for your business. In addition, both security barriers and electric gates offer an effective entry / exit method for your premises.
We provide supply, installation and maintenance of a comprehensive range of automated barriers and electric gates to suit your application, but why choose our gates?
We have an extensive range of finishes available, from wood to aluminium we will help you choose the right material for both your aesthetic and security needs.
Our gate and barrier systems are all completely bespoke for each installation, so they will be perfectly fit for purpose.
Backed by a 24 month guarantee our gates will be the perfect entrance to your home or business for many years.
Each gate is fully tested in critical aspects such as wind load and other operating forces. Moreover CE certification guarantees long term quality and durability.
Aluminium and steel gates can be powder coated, helping to prevent corrosion, and maximising the longevity of your system.
Our systems will…
Greatly improve the security of any premises
Relieve stress and give you additional peace of mind
Create an effective solution for access control
Increase the value and saleability of your property
what our customers say
"In all my dealings with Clearview, they have proven to be a reputable professional company."
more information
Electric Gate Installation
Electric Gate Types
Sliding Gates
Automated Gates
Swing Gates
Cantilever Gates
Bi-Folding / Tri-Folding Gates
Aluminium, Wooden, PVC Gates
Remote Control Gates
Decorative Gates
Need help choosing the right gate? Our experts can help and advise you on the best solution for your property. We pride ourselves on having an outstanding reputation for customer service and quality products. We go over and above for our customers; check out our reviews on Trustpilot.
Quality of product & service
With vast stocks of aluminium double swing and pedestrian gates, we offer our customers fast delivery and industry-leading installation times, along with significant savings on our whole range of security products and services.
All of our electric gate models are fully compliant with our automation systems. Achieve secure entry to your property from the convenience of a touch of a button via a remote fob, intercom, digital keypad, phone call or text.
Specialist ANPR cameras can also be added to our gates and barriers, creating a completely automated system that logs all vehicle throughput.
It's also essential to choose the proper deterrents, including anti-climbing, anti-cutting and/or terrorism resistance features. We have a range of gate and barrier solutions that meet the highest security standards for commercial and industrial applications.
How much do commercial electric gates cost?
Commercial gates are generally more expensive than residential systems with costs starting from £10K + V.A.T and in some cases exceeding £25K + V.A.T.
When choosing the gate or barrier system for your particular requirement, it is crucial to plan for accurate use of operation.
Residential electric gate systems can afford to sacrifice some security elements for aesthetic and practical reasons. You want the best of both, to add a level of security to your home while improving the way it looks and adding value to your property. If you are looking to have electric gates added to your home, we would be happy to discuss your full and detailed requirements with a no-obligation consultation and a comprehensive site survey.
Prices range from £6K + V.A.T to £10K + V.A.T
Commercial security gates and barriers are an extremely important element of any sites security. As a potential point of entry for an intruder, they act as your first line of defence and can be a potential weak point. With the right electric gate or automated barrier system, you can reduce the need for manpower while limiting the chance of a security breach.
Prices range from £10K + V.A.T to £25K + V.A.T
Benefits of aluminium gates
Robust and lightweight. Aluminium is a perfect material for the fabrication of gates – robust, stable and lighter than other traditional materials.
This helps bring a modern twist to the design, allowing for greater flexibility and making them suitable for all types of properties.
Aluminium gates require almost zero maintenance. Unlike their wooden and steel counterparts, they will not greatly suffer from changing weather conditions. If you wash them down with soapy water and rinse, your gate will look as good as new!
Suitable for highly saline environments, no special surface treatment required before or after installation.
How do I get in? The need for automation
Various entry and exit methods are available, such as an intercom call box, keypad requiring a numeric code, access control coded fobs, proximity cards, GSM devices, ANPR, timer units, and even applications compatible with mobile phones.
Free entry and free exit are also options that require loops buried in the ground on the inside and or outside of the gate; this is commonly known as loop detection and works on the basis of detecting the metal construction of a vehicle.
What standards do you work to when installing?
BS EN 13241-1 the Product Standard for powered doors and gates
BS EN 12604 & BS EN 12605 on mechanical requirements and tests
BS EN 12453 & BS EN 12445 on requirements and test for powered gates
BS EN 12635 on installation and use
BS EN 12978 on safety devices for power operated doors and gates
BS EN 60335-2-103 on drives for household and similar gates
BS EN 60335-2-95 on drives for residential vertically moving garage doors
the need for automation
Automated Gates & Barriers
Automated electronic security systems rely on access control solutions, which include security barriers and gate systems.
These components are essential for ensuring secure entry and exit points and are typically protected by a range of security measures such as locks, intermittent guard patrols, fixed guard posts, road blockers, rising bollards, contact alarms, CCTV, or a combination of these systems. By utilizing these measures, access control solutions help to ensure the safety and security of a property and its occupants.
Installation
Maintenance
high security
Durable Security Barrier & Gate Systems
The presence of security barriers and gates provides protection from access of unauthorised personnel to your premises.
For nearly twenty years, ClearView have designed, installed and maintained durable security barrier and gate systems. Take a look at our gates and barrier brochure here. 
Other access control systems include:
ANPR
Public Address
complete control
Benefits of Security Barriers & Automated Gate Systems
Automated gates and barriers are an essential component of an effective security system for any premises. At ClearView, we offer a wide range of designs to meet your specific needs. Our gates and barriers, when combined with the following systems, provide an exceptional level of security:
The benefits of our gates and barrier systems:
Deter unauthorised personnel: Our gates and barriers act as a visual deterrent to anyone who wants to gain unauthorised access to your premises.
Control traffic: With the use of our gates and barriers, you can regulate traffic flow and manage access points for better security.
Enhance security: Our gates and barriers are designed to improve the security of your premises, keeping it protected from unauthorised access and potential breaches.
Reduce manpower: Through gate, barrier and road-blocker automation, you can reduce the need for security personnel.
To ensure the highest level of security, our team will design the appropriate gates, blockers, gate operators, and access control systems for your premises.
Here are some examples of automated gates and barriers we offer:
Automated bi-folding speed gates
Automated sliding gates
Automated pedestrian gates
Automated barriers
Existing gate automation
Automated bollards
Door automation
Security portal doors
security with synergy
Automated Gates & Barrier Maintenance
Automated gates and barriers are a crucial part of a security system that ensures the safety of your premises. To keep your gates and barriers functioning correctly, regular maintenance is essential. Here are some benefits of automated gates & barrier maintenance:
Reliable and Cost-effective Maintenance:
Regular maintenance of your gates and barriers helps to keep them running efficiently, reduces the risk of breakdowns, and minimizes repair costs. By carrying out routine inspections, our engineers can identify and address any potential issues before they become major problems. This ensures that your gates and barriers remain in optimal condition, which extends their lifespan, saving you money in the long run.
Fast Response Times:
Our team of highly trained engineers is available 24/7 to provide a fast and efficient response to any faults that may occur. This minimizes any inconvenience to your staff and visitors, and ensures that your security system is restored to its operational state as quickly as possible.
Compliance with Legal and Insurance Obligations:
Regular maintenance of your gates and barriers helps you to comply with legal and insurance obligations. By ensuring that your security system is operating correctly, you minimize the risk of accidents and injuries on your premises. This also reduces your liability and helps to avoid potential legal issues.
24/7 Helpline for Advice and Support:
ClearView provides a 24/7 helpline for advice and support. Our team of experts is always available to answer any questions you may have and provide guidance on how to best maintain your gates and barriers.
Synergy Security Maintenance:
ClearView offers a comprehensive service for security gate and barrier maintenance. We also provide bespoke Synergy security service and maintenance packages for other fire and security equipment for a fixed monthly fee. This helps you save time and money while ensuring that your security system is always functioning optimally.
In conclusion, regular maintenance of your automated gates and barriers is essential to ensure the safety of your premises. Contact ClearView today to learn more about our security gate and barrier maintenance services in Essex, South-East, and the UK.
Synergy Maintenance
What is the average lifespan of an electric gate or barrier system?
The average lifespan of an electric gate or barrier system can vary depending on the type of system and the frequency of use. However, with regular maintenance and servicing, an electric gate or barrier system can last for up to 10-15 years.
How often should the system be maintained and serviced?
An electric gate or barrier system should be maintained and serviced regularly, at least once or twice a year. However, the frequency of maintenance and servicing may vary depending on the usage of the system, the environment it is installed in, and the manufacturer's recommendations.
What safety features are required for electric gates and barriers?
There are several safety features that are required for electric gates and barriers, including:
Safety edges and photocells to detect obstructions
Warning signs and markings
Emergency release mechanisms
Manual override systems
Safety stop devices
Are there any legal requirements or regulations that need to be followed when installing an electric gate or barrier system?
Yes, there are legal requirements and regulations that need to be followed when installing an electric gate or barrier system. The requirements may vary depending on the location and intended use of the system, but may include compliance with safety standards, obtaining necessary permits and approvals, and adherence to building codes and regulations.
It is important to consult with a professional installer like ClearView who is knowledgeable about these requirements.
Can the system be integrated with other security and access control systems?
Yes, an electric gate or barrier system can be integrated with other security and access control systems, such as CCTV, intercoms, and biometric readers, to provide a comprehensive security solution for your premises.
What is the typical cost of installation and ongoing maintenance?
The cost of installation and ongoing maintenance for an electric gate or barrier system can vary depending on several factors, including the type of system, the size of the gate or barrier, and the complexity of the installation.