Panic Alarms
Workers in positions of authority and those who deal with the public face higher risks of workplace violence. We offer range of systems to protect your staff, providing assistance and reassurance.
Get in touch
Call us on 01245 214100
keep your staff safe
Protect Your Business with Panic & Affray Alarm Systems
Customised Solutions for High-Risk Environments. ClearView is a trusted provider of panic and affray alarm systems for businesses across Essex and the UK.
Our PanicStrip system is designed for use in high-risk environments, such as banks, hospitals, police stations, prisons, and government offices, where a continuous linear contact is necessary.
The system can be activated with the push of a button, providing an essential tool for summoning assistance and ensuring the safety of your staff and customers in the event of an emergency.
Get in touch with a sales advisor at ClearView using the form or call us on 01245 214 100 to arrange a free and no obligation site visit.
Or complete the form below and one of our advisors will be happy to assist you. 
Rest assured, quality service comes as standard:
Extended Warranties
Highly accredited
Industry leading installation times
200+ 5-star reviews
Free estimates
100% satisfaction guaranteed
panic alarms
Why do I need one?
Panic alarms are important for businesses as they provide a quick and effective way to call for help during an emergency. According to the latest crime statistics from the UK government, there were over 460,000 incidents of business crime reported in 2020, including incidents of violence and aggression towards staff members.
Having a panic alarm system in place can help to deter potential criminals, as well as providing reassurance to employees that they can quickly call for help in the event of an emergency. Panic alarms can also assist emergency services in responding to incidents more quickly and efficiently, potentially reducing the risk of harm to employees and damage to the business.
Benefits of a Panic Alarm System
Keep Your Staff Safe: Panic and affray alarm systems are an essential tool for ensuring the safety of your staff in high-risk environments.
Customised Solutions: ClearView offers customised panic and affray alarm systems designed to meet the unique needs of your business.
High-Risk Environments: PanicStrip is the perfect solution for high-risk environments such as banks, hospitals, and government offices.
Immediate Assistance: Panic and affray alarm systems can be activated with the push of a button, providing immediate assistance in the event of an emergency.
Reliable Protection: Trust ClearView to provide reliable and effective panic and affray alarm systems that protect your business and your staff.
Reduce Workplace Violence: Panic and affray alarm systems can deter potential aggressors and help reduce incidents of workplace violence.
Compliance with Regulations: Panic and affray alarm systems can help ensure compliance with legal and regulatory requirements, protecting your business or organisation and limiting liability.
Peace of Mind: With ClearView's panic and affray alarm systems, you can have peace of mind knowing that your staff and customers are protected in the event of an emergency.
protecting what matters most
Benefits of PanicStrip for Emergency Response
Designed for ease and reliability of use in an emergency with a large strike and contact area, PanicStrip provides reassurance to individuals on the status of the alarm by illuminating the entire length of the switch. Text and graphics can be added to provide further information if required.
PanicStrip provides an alarm activation area which is always within easy reach, unlike push-button alarms which can be located away from an incident.
Key Features of PanicStrip include:
Continuous monitoring illuminated call/alarm strip
Low profile to reduce accidental activation
Adjustable impact sensitivity area
Visual assurance at all times that the strip is activated and functional
Warning lights act as a deterrent to potential assailants
Weather-proof and vandal-resistant options
Activation trigger configuration includes:
Audible alarm
Silent alarm
On-screen notification to remote monitoring centre
Alarms integrated to the security management systems
ClearView's services portfolio is extensive and includes design and installation, as well as ongoing maintenance and support to ensure your panic alarm system is always functioning optimally.
who & why
Markets We Serve
Panic alarms and affray systems are used across various industries to ensure the safety and security of employees, customers, and visitors. Some of the relevant markets for panic alarms include law enforcement, offices, schools, lone workers, and care homes.
In the law enforcement sector, panic alarms are commonly installed in police stations, interview rooms, the custody bridge, outside cells, and the custody desk to ensure the safety of law enforcement officers and other personnel. Panic alarms are also frequently used in cash offices, cash desks, and counters in banks to safeguard employees and deter criminal activity.
In offices, panic alarms provide a sense of security for employees and visitors, particularly those who work in high-risk positions or areas. Similarly, schools may utilise panic alarms in classrooms, staff rooms, and other locations to protect students and faculty from potential threats.
For lone workers, such as security guards or delivery drivers, panic alarms can provide a lifeline in case of an emergency. In care homes, panic alarms can be used to alert staff to any incidents or emergencies involving residents.
In addition to these markets, panic alarms can be installed in hospitals, ambulances, prisons, visitor search reception areas, visitor rooms, and other locations where safety and security are of the utmost importance.
Industries we serve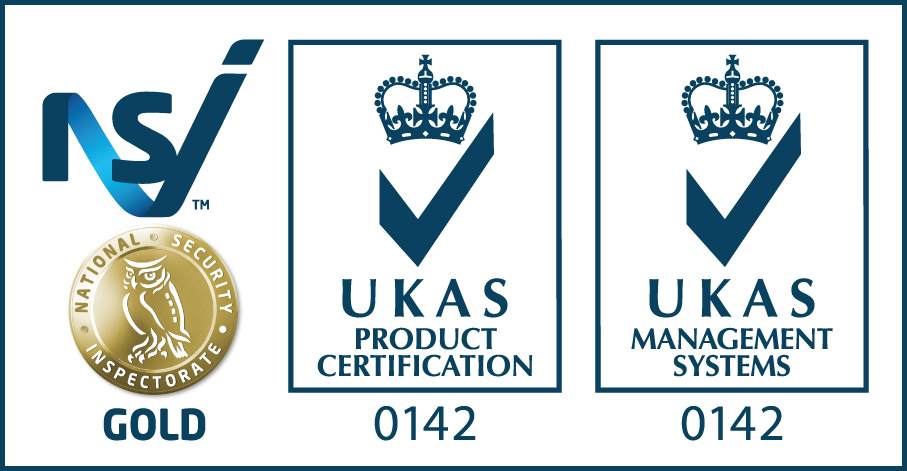 What are panic alarms?
Panic alarms are security systems designed to alert people to potential danger or an emergency. They are often used in workplaces and public spaces, and can be activated by pressing a button, pulling a cord, or using a touch-free device.
How do panic alarms work?
When a panic alarm is activated, it sends a signal to a monitoring station or directly to emergency services. The signal can include an audible alarm, a visual signal, or both. Panic alarms can also be set up to automatically notify a specific person or group of people via phone, text, or email.
Why are panic alarms important for businesses?
Panic alarms provide a quick and reliable way to alert others in case of an emergency, such as an assault, robbery, or medical crisis. By having panic alarms installed, businesses can improve the safety of their employees and customers, as well as potentially reduce the risk of damage to property.
What are the types of panic alarms available?
There are several types of panic alarms available, including strip alarms, push-button alarms, pull-cord alarms, touch-free alarms, and mobile phone alarms. Each type has its own benefits and limitations, and the choice of alarm will depend on the specific needs of the customer.
How can I get a panic alarm for my organisation?
To get a panic alarm installed, you can contact a sales advisor from ClearView. They will be able to assess your needs and provide recommendations for the best type of panic system.
What are the maintenance requirements for panic alarms?
Panic alarms should be tested and maintained on a regular basis to ensure they are in good working order. The exact maintenance requirements will depend on the type of alarm and the manufacturer's recommendations. It's important to work with a reputable security company that can provide ongoing maintenance and support for your panic alarms.