Accreditations
Compliance with International Standards
External auditing provides you with peace of mind that you are dealing with a company who is continually striving to improve performance and provide only the best products and services.
Our Partners
Contact Us
keeping you safe
Health & Safety Management
We are responsible for protecting our clients, staff, and the public whilst undertaking all our operations. Our certification in ISO 45001:2018 is evidence of our ongoing commitment to the highest occupational health and safety standards.
See our Health & Safety Policy.
QMS UK audits our 45001:2018 certification for health and safety management.
Read More
CONTINUAL IMPROVEMENT
Quality Management System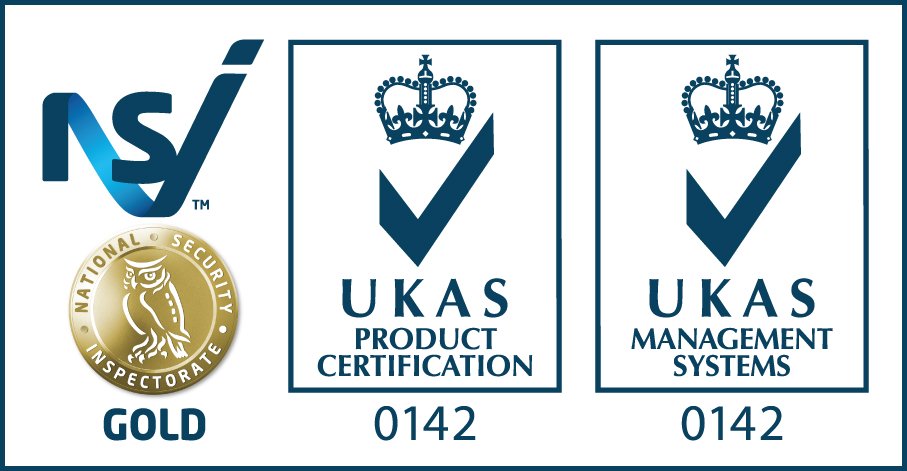 Quality assurance is at the forefront of every design, installation project and maintenance service. Our ISO 9001:2015 certification helps us maintain excellent standards and ensures we provide systems that satisfy our clients' needs, requirements, and expectations.
All our staff are security cleared to the highest standard and following BS7858.
See our Quality Policy.
Our 9001:2015 certification for quality management system is audited by the National Security Inspectorate (NSI).
MANAGING OUR IMPACT
Quality Environmental Management System
IFC CERTIFIED
Passive Fire Protection
We are certified with an independent, UKAS accredited, internationally recognised organisation to carry out passive fire protection operations. This gives you the confidence that you are dealing with a company with the right policies and processes to carry out the work safely and to the highest standard.
The IFC audits our certification for passive fire protection.
Read More
PROTECTING YOUR DATA
Cyber Essentials+
With the threat of cybercrime increasing, IT security is critical. At ClearView, we understand keeping our customer's data and information safe. Cyber Essentials+ is a certification we hold that documents the policies and processes which keep our IT infrastructure safe and secure.
Our Cyber Essentials+ certification is audited by Assign IT
ACCREDITATION
BAFE: SP203-1 Fire Detection and Alarm Systems
The BAFE accreditation holds the uppermost standards for installing, commissioning, and maintenance of fire alarm systems. The auditor thoroughly checks every aspect of our maintenance contracts and projects; from our office process down to the commissioning of a plan, you can be assured we provide a service of the highest calibre.
Read More
ACCREDITATION
Safety Schemes in Procurement
We are certified with CHAS (Contractors Health & Safety Assessment Scheme). This certification shows you that we invest heavily in health and safety by adhering to strict health and safety standards. CHAS is the founding member of SSIP (safety schemes in procurement) and is a trusted advisor on health and safety compliance.
Read More
ACCREDITATION
Constructionline Gold
Constructionline Gold assures you that you have chosen a company which has already demonstrated its legal, financial, health and safety compliance through an independent pre-qualification questionnaire.
As part of this, we have to provide evidence of our insurance, equal opportunities, modern slavery act adherence, environmental management, quality management, and anti-bribery and corruption policies.
Read More
OUR COMMUNITY
Professional Memberships
In addition to the above, ClearView is a member of the following organisations:
Fire Protection Association
Fire Industry Association
GateSafe
These memberships provide us with access to the latest advice and training guidance from some of the world's leading safety organisations.
MEMBERSHIPS
Fire Protection Association (FPA)
The Fire Protection Association is the UK's national fire safety organisation, helping personnel and businesses identify and mitigate fire-related risks.
The FPA was established in 1946 and has over 4,000 members. The FPA provides us with training and professional development opportunities for our staff and gives us access to information and advice on fire safety.
Read More
MEMBERSHIPS
Fire Industry Association (FIA)
The FIA is the leading trade association for the fire industry in the UK.
FIA have provided us with guidance and advice on our processes and policies in attaining our BAFE accreditation. This helps us to achieve compliance with the relevant British standards and to ensure we are keeping our contracted customers safe.
They provide formal qualification training courses which we put our staff through such as: Fire Alarm Installation, maintenance and commissioning, fire extinguisher maintenance training, fire alarm design training.
The FIA promotes best practice within the industry and aims to provide the skills and knowledge to those undertaking fire maintenance services.
Read More
Gate Safe is a charity which was founded in 2010. Gate Safe promotes awareness of the safe installation and maintenance of automated gates and barriers in varied applications, including schools, commercial premises and residential sites.
Gate Safe delivers IOSH approved Gate Safe training for suppliers covering legal aspects such as the Machinery Directive 2006/42/EC. Gate Safe also provides additional general recommendations to encourage a holistic approach to best practices when installing gates.
ClearView is an approved Gate Safe installer.
Read More