This article will tell you everything you need to know about CCTV systems. Find out all about how installing a CCTV security system can help improve the security of your business and protect your employees and equipment.
CCTV stands for closed-circuit television and usually consists of a network of 2 or more CCTV cameras that connect to a recording device and storage system. The first documented use of CCTV systems was in 1942, but it wasn't until the 1990s that it became commonplace.
Currently, as many as 5.2 million CCTV systems are operating in the UK. This number will continue to increase as businesses seek higher levels of security through CCTV surveillance.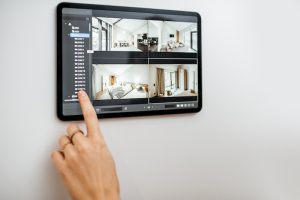 What is the purpose of CCTV?
CCTV systems enable business owners to monitor their premises' interior and exterior closely. You can also use CCTV for home security if you work from home. This is particularly essential if you store expensive, high-tech equipment that would be difficult to replace.
In some cases, they can mean the difference between solving a criminal case and coming to a dead end.
Recent advancement in technology has allowed for the development of new, high-resolution camera lenses with incredible zoom capabilities. This detail allows them to identify the unique facial features of the culprits.
Automatic Number Plate Readers (ANPR)
However, an even more remarkable feature is that specific models of CCTV can capture vehicle number plates. For example, an Automatic Number Plate Recognition camera can read vehicle registration plates and create location data. ANPR works by using a camera that is linked to a computer. Each time a vehicle passes the camera, the number plate is 'read' by the PC and the Vehicle Registration Mark is recorded.
If the police have reasonable cause to suspect criminal activity, they can request the details of the name the vehicle is registered to from the DVLA. You can also determine how old the car is, the colour and which year it was registered in.
Therefore, even if the intruder escapes, you can determine the transportation they use. In addition, the police can enter the number plate on their system to find the vehicle's make, model and year of purchase. Intelligent video analytics can recognise unique behaviours that have been programmed in, such as 'person moving from vehicle to vehicle.'
Remote CCTV Monitoring
Overall, if you have a CCTV system fitted in your business, you can monitor activity at all times. At ClearView, we offer remote CCTV monitoring from a UK alarm receiving centre (ARC). They will monitor your premises via your security cameras 24/7, 365.
The ARC will have the ability to:
Inform you of an intrusion

Use loudspeakers to warn criminals, e.g. 'you are being recorded on CCTV', 'the police have been called'

Contact the police and/or emergency services
Our CCTV monitoring is unique. We use video analytics to help improve accuracy within the surveillance process. This can help remove up to 90% of false alarms, allowing you to focus on real threats.
Once the alarm is sounded, the ARC will receive images from the camera on their screen. Then, they will decide the best course of action. This takes the pressure off whilst keeping you in the loop; you can visit the site as soon as it is convenient for you. In addition, we can design and install a CCTV control room in your desired location.
By investing in security systems, suspicious behaviour can be reported, criminals can be caught in the act, and criminal behaviour is often deterred altogether.
What are the benefits of CCTV?
Decreased Criminal Activity
Intruders often look for premises that they perceive to be an 'easy target'. They do not want to draw any attention to their behaviour. By making sure your CCTV system is clear and visible, you warn potential criminals that your business takes security seriously and will not hesitate to prosecute guilty individuals.
The College of Policing found that crime taking place in local car parks decreased by 37% after the installation of new CCTV security systems. In areas with drug-related crimes, these decreased by 20% and vehicle and property crime went down by 14%. Additionally, CCTV was found to be increasingly effective when implemented along with other deterrents such as improved lighting and alarm systems. Here, crime decreased by 34%.
Reduced Insurance Premiums
A major benefit to all businesses, no matter their size, is that CCTV installation is cost-effective. Most insurance companies across the UK recognise and value the benefit of CCTV systems to businesses. It reduces your security risk, therefore reducing the cost of your insurance. Over time, this can save a business a significant amount of money.
Evidence for Insurance Claims
Additionally, CCTV makes it much easier to provide evidence alongside an insurance claim. This way, you can protect your business and your employees by ensuring you claim is backed up with reliable footage.
True Peace of Mind
By installing a CCTV system, you can monitor your business anytime from anywhere. This means that when you are not on-site you can still view your premises from all angles. For example, over the Christmas period when many businesses are closed, you can still check that everything is well.
Monitor Staff Performance
This advantage is particularly important for larger businesses who wish to track the behaviour and performance of their employees. They can check punctuality, attendance and monitor time spent on certain tasks. It can also help to ensure they always behave professionally. You may wish to use footage during training sessions to show examples of good vs poor behaviour.
Monitor Staff Safety
CCTV can help make sure staff follow your businesses safety procedures at all times. If an accident occurs, you can use the footage captured to make an insurance claim if necessary.
Types of CCTV
Wired
These systems are the most traditional kind of CCTV, primarily used on large premises. A cable is used to connect the camera to a recording device, the recording device is of course connected to the router. Alternatively, a power over the ethernet cable can be used to provide both power and an internet connection in just one cable. This offers a cleaner, tidy installation process.
Usually, these are more reliable as they are not subject to interference from wireless signals. You can be certain they will be able to record 24/7.
Wireless
Wireless CCTV works by connecting to your Wi-Fi network and transmitting security footage from your camera to your recording device. You may access the captured footage by using a built-in device or cloud storage which will allow you to watch from anywhere with an internet connection.
As they connect to your Wi-Fi, the installation process is quick and smooth in comparison to wired CCTV. This is ideal if your business is operating in a temporary location as they are easy to set up, move or take down. However, these systems still require a wired power cable. You will need to bear this in mind when choosing a location for mounting.
At ClearView Communications, we proudly work with a number of security service partners:
Therefore, you will be free to choose from an extensive range of cameras produced by high-end security companies.
Explore the variety of CCTV camera styles available with ClearView and select the type you feel best suits your business premises.
CCTV Installation
At Clearview Communications, our experienced engineers will ensure that your business has the best CCTV camera type to suit the premises. Also, they will check that you have an appropriate amount of cameras to cover the space required.
As businesses will usually want their cameras to be obvious to intruders, if you wish for some cameras to be installed discreetly that is not a problem. Speak to your engineer upon arrival to ensure you receive the bespoke installation you require.
Next, it will be up to you and your colleagues to select the prime locations for your cameras. The engineer will help ensure that the cameras are not hindered by reflections or blind spots.
In addition, you must be careful not to breach the privacy of any neighbouring buildings. Let them know about the CCTV installation in advance so that they are aware. It is illegal to record audio on CCTV in the UK, so make sure audio is disabled on your devices. Ideally, your CCTV system will only capture images within the boundaries of your businesses' private property.
If you are capturing footage outside of your private property, you need to take certain steps to comply with data protection laws. For example, if you wish to record the public footpath outside your premises, you need to put signs up to state that recording it taking place and why.
Lastly, make sure that only authorised individuals have access to the footage e.g. security staff and the CEOs. If recordings enter the wrong hands, you could be in breach of the data protection act. Add an extra layer of security by protecting the footage with a secure password.
How much will CCTV cost?
The cost of your CCTV installation is entirely dependent on the size of your business and the level of detail you wish to capture. Naturally, the more cameras you install, the higher the cost.
If you're unsure of just how many cameras you require, contact ClearView Communications for a free, no obligation quote.
Does my business really need CCTV?
CCTV surveillance systems can have a great impact on your business, whether you are small and local or a large corporation. You can save a significant amount of money on your insurance premiums as CCTV acts a criminal deterrent. When you make a claim without sufficient evidence, it is likely to be rejected.
An effective, modern CCTV system can provide absolute peace of mind. Every incident or accident will be recorded in full, ready to use if needed. You can choose from subtle, discreet dome security cameras to extensive, overt wide-angle CCTV cameras depending on the atmosphere you wish to create.
Get in touch with ClearView Communications to start the journey to secure and protect your business and employees.