Safeguard your Business with ClearView's Comprehensive Template
Our complimentary fire risk assessment template is specifically designed for small businesses. It guides you through a user-friendly fire risk assessment process at your premises, helping you document vital details to protect your building and its occupants.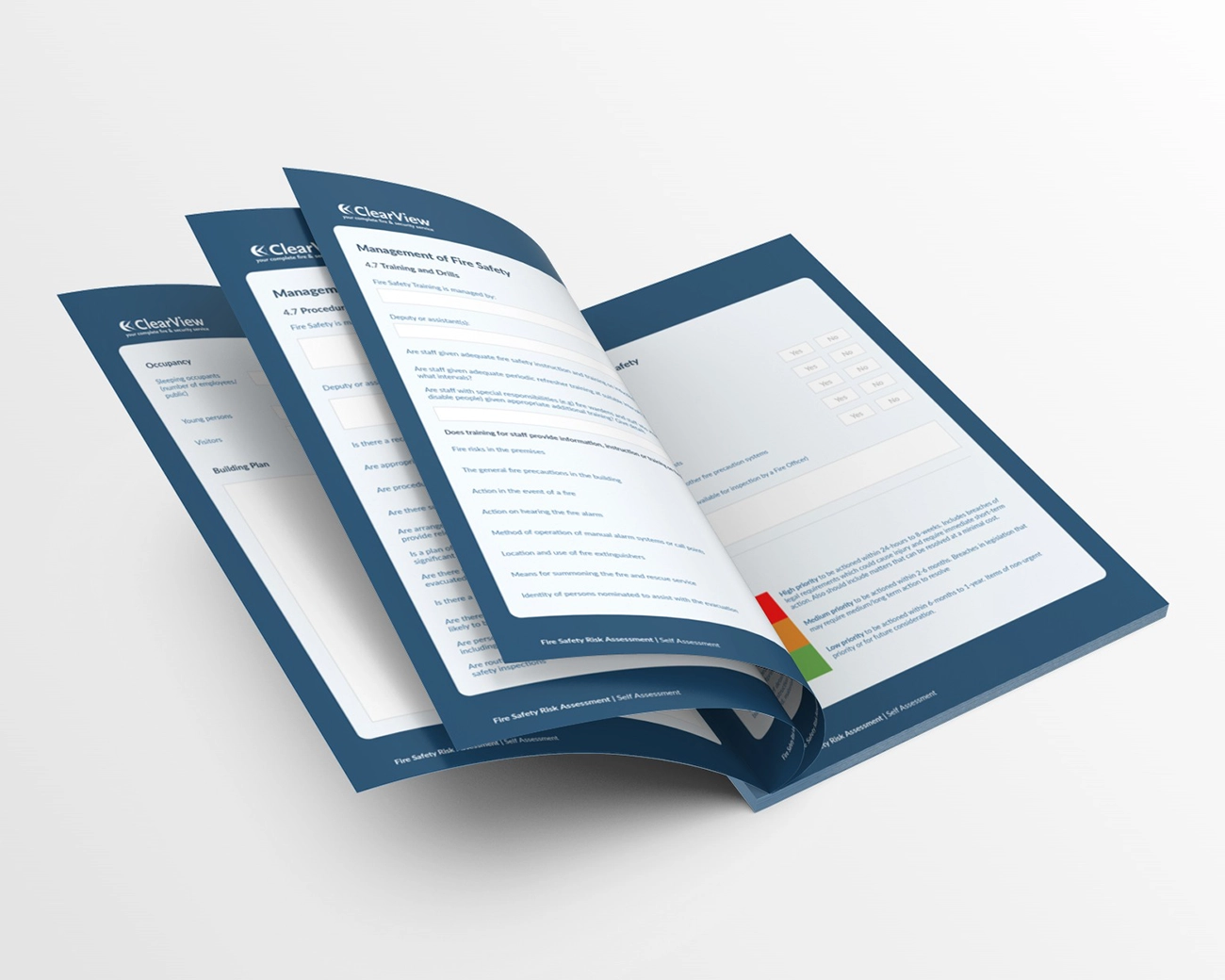 Download Your Template
Key Facts about Fire Risk Assessments
Legally required for all properties
Conduct assessments for each property under your responsibility
Non-compliance may result in legal consequences
Update assessments regularly, ideally annually or after significant changes
Engage a qualified professional for accurate assessments
Who is at Risk in Your Building?
To ensure a comprehensive fire risk assessment, it is essential to identify the individuals who may be at risk in the event of a fire. This includes considering all occupants within your building and taking into account the specific people present at any given time.
Depending on the type of premises and whether it is open to the public, it is important to analyse the following groups of individuals who could be at risk: tenants, employees, lone and evening workers, children, customers, as well as vulnerable individuals and the elderly.
Appointing the Right Person for Your Risk Assessment (Fire Safety Order 2005)
The responsible person must ensure the fire risk assessment is compliant and adequate. For small businesses, the owner typically assumes this role unless an alternate individual is appointed. You can engage a qualified and competent fire risk assessor or attend fire safety training courses to gain confidence in conducting the assessment yourself.
Conducting a Risk Assessment Yourself: Step-by-Step Guide
Utilise our fire risk assessment template
Address all necessary areas within your building
Document assessment results and preventive actions
A Step-by-Step Guide to Your Fire Risk Assessment
Understand fire hazards and their causes
Identify groups at risk within your building
Implement proactive measures to minimize fire risks
Train staff on fire safety procedures and equipment use
Regularly Review Your Assessment
Update your fire risk assessment periodically to accommodate changes in procedures, building layouts, and equipment. Review assessments after a fire or close call to document incidents and implement new measures to prevent recurrence.
The law does not specify specific time intervals for conducting or reviewing risk assessments. Instead, it states that the individual accountable for the assessment in your building must review it "regularly" to ensure its relevance and accuracy.
The responsible person is required to review the fire risk assessment under the following circumstances:
If there is reason to believe that it is no longer valid, such as if a fire has occurred in the shared areas of the building.
If significant changes have taken place since the assessment was conducted, such as major construction work or an increase in the number of individuals using the building.
Helpful Resources for Your Fire Risk Assessment
A wealth of information and guidance is available to assist you, including resources from :
For further assistance or advice regarding your fire risk assessment or if your premises require an advanced assessment, contact our team of specialists.
Get Started with Your Free Fire Risk Assessment Template Now
Don't wait any longer. Download our free fire risk assessment template and take the first step towards safeguarding your small business. If you need further assistance or advice, feel free to contact our team of specialists. We're here to help!
Download Your Free Fire Risk Assessment