Thermal CCTV Cameras
Unleash the power of security with Thermal CCTV cameras. Keep your premises safe like never before by easily recognising the presence of both humans and vehicles in low-light. Get ready to experience a cutting-edge solution that elevates your security to new heights.
Get in touch
Call us on 01245 214100
The benefits
Why choose Thermal Cameras over Optical Cameras?
Night Vision: Thermal cameras can see in complete darkness, as they detect heat signatures rather than light. Optical cameras, on the other hand, require a certain amount of light to function properly.

Detection in Adverse Weather: Thermal cameras are less affected by adverse weather conditions. This makes them ideal for use in harsh environments where optical cameras may struggle to produce clear images.

Recognition of Hidden Objects: Thermal cameras can detect objects that are hidden behind objects or in shadows. This makes them particularly useful for security applications.

Object Identification: Thermal cameras can accurately identify objects based on their heat signatures, even if they are partially obscured.

Maintenance: Thermal cameras generally require less maintenance than optical cameras, as they have fewer moving parts and do not rely on visible light.
Thermal cameras work by converting infrared radiation (heat energy) emitted by objects into an image. Unlike regular cameras, it can detect temperature differences and create an image in complete darkness or obscured conditions. The image shows the relative temperature of objects, with warmer objects appearing brighter. The information is useful for security, search and rescue, and industrial inspections.
reliable, robust & high-quality
Thermal Imaging CCTV
Unlock unbeatable security with ClearView Thermal Cameras. Experience the peace of mind that comes with reliable, robust, and high-quality surveillance. Precision-engineered to the highest standards, our thermal camera range is designed to deliver outstanding performance in the most demanding security applications. Choose from a variety of options to find the perfect solution that fits your operational needs, and keep your premises protected like never before.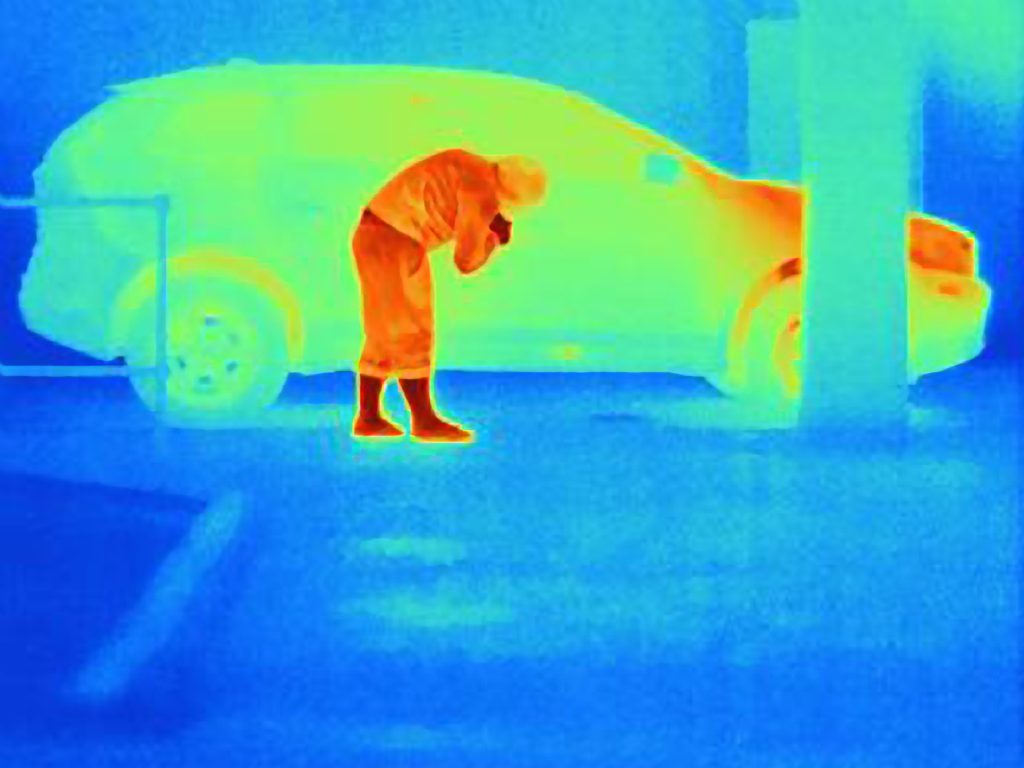 Discover Unmatched Surveillance Power with Thermal Imaging Cameras! Say goodbye to the limitations of standard CCTV cameras and embrace a new level of security. Whether you need a vandal-resistant, marine-grade, or explosion-proof solution, our cameras are available in IP66, IP67, and IP68 protection ratings to meet your specific needs.
See what others can't with Thermal Imaging! This cutting-edge technology transforms the slightest temperature change into a clear and detailed image, providing immediate recognition of intruders or threats. Say goodbye to shadows and low-light conditions, as thermal cameras require no illumination and can penetrate even the densest fog.
Stay ahead of the game with advanced technology. With the ability to detect human-sized figures from up to 30 km away, you'll have the information you need to make informed decisions in real-time. Say goodbye to guesswork and hello to a new level of security with thermal imaging cameras
Temperature Check Thermal Camera System TCB601
Stay Ahead of the Curve with the TCB601 Temperature Check Thermal Camera System. The Camera system automatically detects elevated temperatures so you can say goodbye to manual checks and hello to a new level of efficiency.
The TCB601 system is equipped with both a thermal imaging camera and an optical CCTV camera, providing you with the best of both worlds. The compact housing and black body make it easy to install and integrate into your existing security setup.
Features of the Fever Check Thermal Camera System:
Full network, 384*288 network thermal camera and 2.0M HD network visible camera
Built-in blackbody and external blackbody to ensure high accuracy temperature measurement.
Real-time dynamic thermal image
Multiple target measurement.
Remote non-contact measurement
Fast and safe.
Smart measurement – displayed in video
Auto calibration, built-in reference black-body and high precision temperature sensor
Fixed and mobile application
Multiple high temperature alarming
Minimum alarm area to avoid false alarms (e.g. cigarette end)
Range of pseudo colours for different temperatures
Temperature alarm range configurable
Temperature display over measurement area with alarms
Snapshot and video recording on alarm for later query/analysis
System remotely viewable (with alarms) over network connection
Comprehensive user training and service support packages are available.
get a quote
Thermal CCTV Camera Installation & Maintenance
Join the ClearView Revolution and Unleash Unmatched Security! With over 25 years of experience, ClearView has established itself as a leader in the design, supply, and maintenance of top-notch thermal imaging CCTV cameras. Our 20,000 sq ft headquarters located in Chelmsford, Essex, is at the forefront of innovation, providing you with the best security solutions available.
Speak to an advisor