Re-Deployable CCTV Cameras
Upgrade to our rapid deployment CCTV for instant surveillance in crime prevention, safety, events, law enforcement, and traffic management. Enjoy a lightning-fast setup and safer security solution.
Get in touch
Call us on 01245 214100
rapid deployment CCTV systems
Re-Deployable CCTV Cameras
Don't be limited by outdated security systems. Our mobile CCTV cameras come equipped with a variety of transmission options to ensure you're always connected. Whether it's through 4G or 5G on your mobile phone, wireless IP, Coded Orthogonal Frequency Division Multiplexing (COFDM), or even with copper and fiber optic cable, we've got you covered. With this level of versatility and ease of use, you'll have the freedom to keep an eye on what matters most, no matter where you are.
At Clearview, we understand that every application is unique and requires a tailored solution. That's why we carefully select the most appropriate transmission system for you, taking into account mobile transmission coverage, geographical considerations, and Line-of-Sight. Our CCTV systems are designed with speed and versatility in mind, making them perfect for temporary use in a wide range of industries, including law enforcement, rail, construction sites, councils, government, and live events. So why wait? Let us help you find the best mobile CCTV solution for your needs today!
Re-Deployable CCTV Camera Product Guide
Get a quote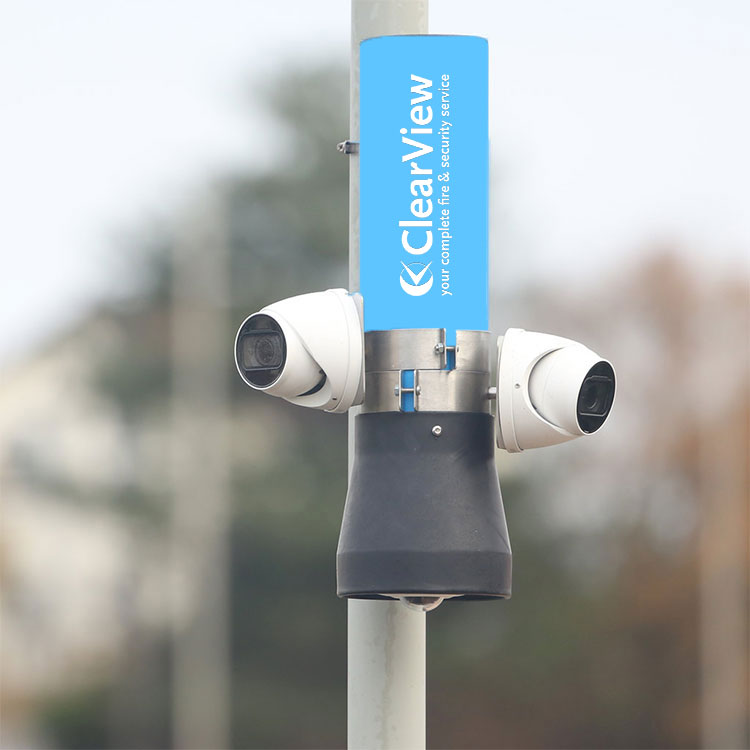 Re-Deployable CCTV combines the power of proactive monitoring and quick deployment helping to reduce crime and protect what matters most.
stay protected with fast CCTV surveillance
The benefits of Re-Deployable CCTV Cameras
The Re-Deployable CCTV Cameras are easily and rapidly deployed- A camera record or transmit unit can be mounted onto lamp posts and walls using standard fixings or located internally. With a simple connection to a 230VAC mains power or battery power option, you'll be up and running in no time.
Stay Connected and In Control with Multi-Camera Viewing- Whether you're at your desk on a standard PC or laptop, on the go with your mobile phone, or connected via IP or ADSL, you'll always have access to your cameras.
Variety of transmission methods– Whether you're using mobile, 4G, 5G, GSM, HSCDS, or Wireless IP networks, our re-deployable camera system will transmit clear and fast images, without the need for a fixed telephone line. With connection and download speeds ranging from less than 1 ips (GSM) to real-time 50 ips @ 4 CIF (wireless IP) dependant on the network used, you can trust that our versatile transmission methods will keep you connected anywhere.
Non-Stop Surveillance with Continuous Video Recording- Capture every moment with our continuous video recording feature. Whether you're monitoring the footage remotely or not, our cameras will start recording the moment they detect motion. With the ability to view recorded images remotely, you'll never miss a beat. Plus, with a removable hard disc caddy, you can easily transfer and view footage on a PC or laptop. Keep your evidence secure and always at your fingertips, with our continuous video recording solution.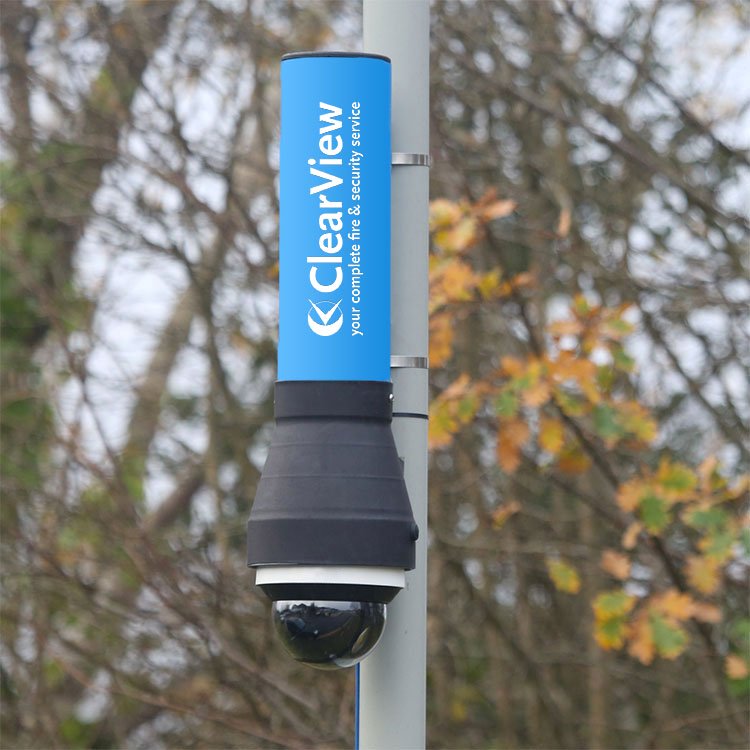 key features of this CCTV system
Re-Deployable Cameras
High speed pan, tilt and zoom functions
Full telemetry control
Transmit pictures without the need for fixed line
Ideal for monitoring covert operations
Continuous recording with removable hard disc caddy
Operates with all standard CCTV cameras
Rapid deployment
Suitable for temporary installation
Camera options – 8MP Fixed, 12MP Fisheye IR or 25x Zoom PTZ IR
Multi-camera options of up to 3 per unit
Wi-Fi, 4G and long-range wireless (10km radius)
Long-range digital zoom on recorded images
Fisheye MP single camera to cover large area
Design weight of less than 2.0kg
VCA 'approved device' for Penalty Charge Notice and traffic management
What does the Re-Deployable CCTV Camera System include?
Our re-deployable camera systems are provided with the following as a minimum standard:
Fixed IP addresses
A 500Gb on-board removable hard disc drive
Wall and lamp post fixing brackets
CCTV recordings may be downloaded remotely over the transmission link, or locally using wired or wireless IP.
police mobile CCTV cameras
Re-Deployable CCTV System Applications
Crime and anti-social behaviour often occurs sporadically in areas not protected by fixed line CCTV Systems, the mobility and versatility makes this system a perfect solution for areas where crime occurs.
Remote sites are prime targets for fly-tippers, but not anymore! With our discreet and mobile CCTV system, you can put an end to this criminal activity. No mains power? No problem! Our system operates without it, giving you the ability to protect remote areas where other systems can't reach.
Events & Festivals- Re-Deployable TrailerCam
ClearView has been a leading provider of trailer mounted re-deployable camera systems for years, showcasing its expertise in the field. With a proven track record, ClearView manufactured a large number of systems for the London Olympic 2012 Park, a testament to its commitment to excellence. Choose ClearView for your next camera system project and experience the best in the business!
Experience the power of immediate surveillance with TrailerCam's rapid deployment CCTV system! Perfect for temporary or semi-permanent needs, this solution provides coverage to even the most remote sites. With a rugged PTZ camera mounted on a towering 6m telescopic tower, you can rest easy knowing you're protected. Customize your experience with fixed cameras, wireless PIR detectors, a PA system, and a variety of transmission options. Get the coverage you need, when and where you need it.
Get quick and easy surveillance coverage with TrailerCam's hassle-free installation and heavy-duty design. Monitor your site from anywhere with its remote access through the IMMIX Security Management System.
TrailerCam packs big surveillance capabilities into a compact design that fits right in a transit van. With a design that's easy to maneuver, even a single person can bring it to the right spot. Its wheels can be removed for added security, and the telescopic tower can be quickly extended horizontally before being raised to its full height with a hydraulic ram. With site power and a built-in battery back-up, TrailerCam can provide full operation for up to 72 hours.
the setup
Standard Configurations
All ClearView mobile CCTV cameras feature vandal resistant housings. Ease of install/uninstall supports the ability to quickly redeploy if required.
Model
Camera Configuration
Connectivity / Storage
Standard Accessories
IC POD One camera
ONE 8MP Hi-Res
Fixed focus
Long range Wi-Fi
4G streaming
SD Card
Carry case
Power lead
IC1-Redeployable Camera -One camera
ONE 12MP 360 Fisheye
OR ONE 25x PTZ
Long range Wi-Fi
PTP/PTMP Wireless (5km)
4G streaming
SD Card
Pole mounting kit
Carry case
Power lead
ClearView-Redeployable Camera – Two camera
ONE 8MP Side Cam,
ONE 12MP 360 Fisheye
OR 20x PTZ IR
Long range Wi-Fi
PTP/PTMP Wireless (5km)
4G streaming
SD Card
Pole mounting kit
Carry case
Power lead
IC3-Redeployable Camera
Three camera
TWO 8MP VF IR,
ONE 12MP 360 Fisheye
OR 20x PTZ IR
Long range Wi-Fi
PTP/PTMP Wireless (5km)
4G streaming
SD Card
Pole mounting kit
Carry case
Power lead
get a quote
Elevate Your Security Game with Lightning-Fast Deployment now
Unleash Unbeatable Security with Our Expert Team! Don't wait, reach out to us today and learn how you can benefit from the latest cutting-edge cameras. Our knowledgeable experts are eager to work with you to find the perfect solution for your business. From installation to procurement, we'll be by your side every step of the way, helping you secure your operations and pave the way for a safer future. So why wait? Get in touch with us now and experience the power of unbeatable security
Speak to an advisor