Southend-on-Sea Borough Council Fire Stopping Remediation – Remedial Fire Stopping Works
ClearView have now completed the Remedial Fire Stopping works within ten tower block risers for Southend-on-Sea Borough Council, appointed by South Essex Homes. Awarded by tender, the works have been completed to high standards and ahead of schedule. The South Essex Homes was formed in 2005 and is the Management Organisation for Southend-on-Sea Borough Council.
Passive Fire Protection is a crucial component of structural fire safety as it provides buildings with fire and smoke resistance for a pre-determined time, based on fire rated materials. In accordance with the UK building regulations, all new refurbishments and buildings must incorporate Passive Fire Protection measures. ClearView is an accredited installer for passive fire protection works by the International Fire Consultants and have vast expertise of managing large scale and smaller passive fire protection projects including fire stopping installation and fire door installation.
Requirements:
The project required passive fire protection applied within all the electrical and mechanical risers, throughout all floors within the tower blocks. Our Passive Fire Protection engineers were required to remove the old, existing non-compliant Fire Stopping and supply and install compliant Fire Stopping within the risers to cable and pipe penetrations. The risers restricted access due to size and lighting therefore additional light was used where required. By fire stopping voids and all services passing through them, such as pipes, cables and ductwork, we can ensure compliance and effective performance of these structural elements in the event of a fire.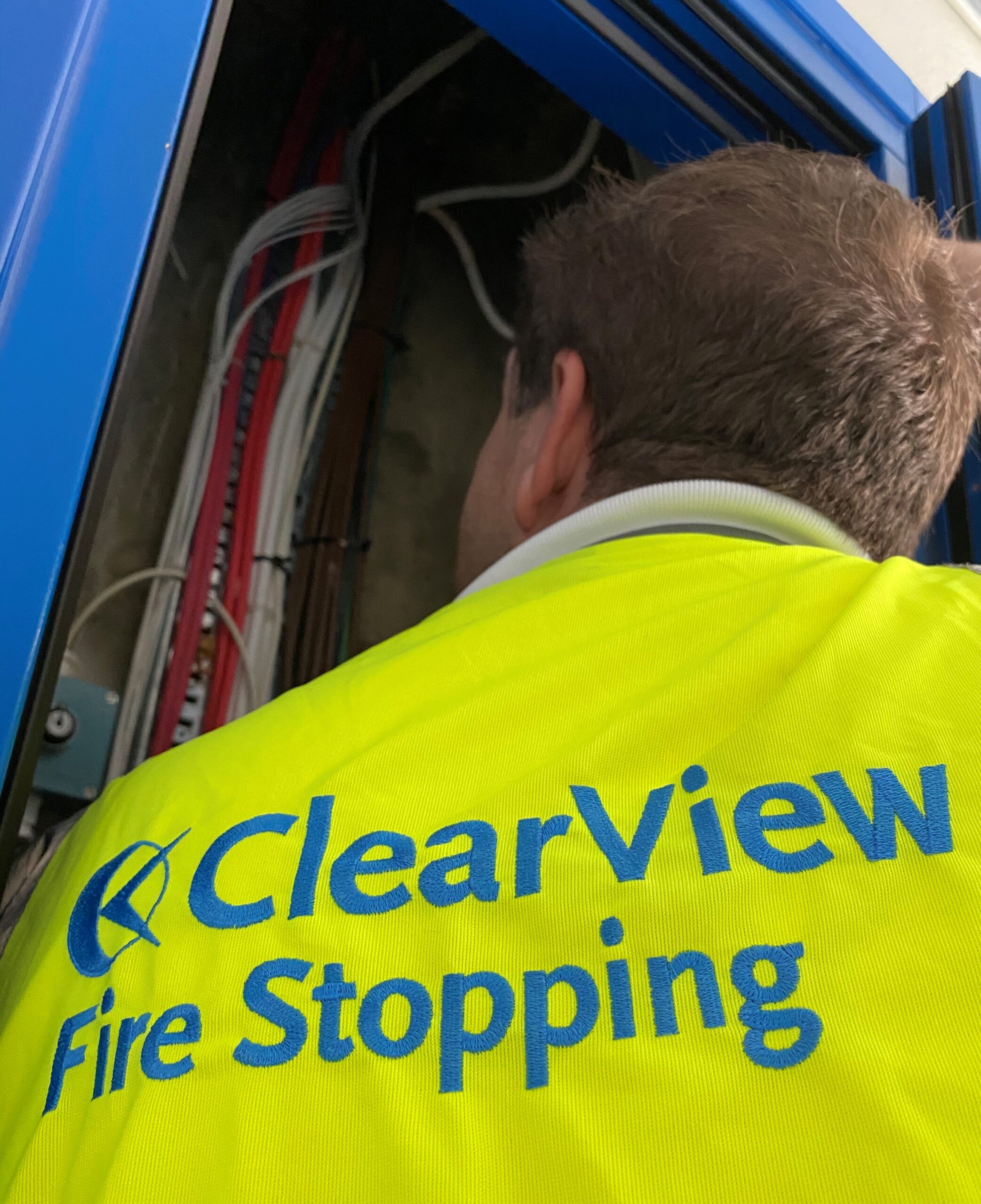 ClearView solution:
Polyseam (Protecta) products were used throughout the project due to being the preferred product by the client. Including Acrylic Intumescent Mastic and HP Mastic to seal cables and pipes. Intumescent sealant can be applied to fire doors, windows, cables, joints, pipes, voids and other minor holes through which fire could potentially spread. The Polyseam sealant was installed to the cables and pipes to ensure there were no gaps and it created a barrier to smoke and flame, significantly reducing the damage that a fire can cause. Polyseam is an independent manufacturer of passive fire protection products such as filler, adhesive and sealant. Since 1993, Polyseam has manufactured high quality products and provides service to customers and communities in more than 41 countries.
Quality assurance:
All installations are required to meet manufacturers test details requirements. Our highly trained passive fire protection installers are 3rd party accredited by the International Fire Consultants and we are one of very few passive fire protection companies that operate to recognized international standards. We have vast experience delivering fire stopping and fire doors (passive fire protection) for large construction projects as the principal contractor and sub-contractor. Furthermore, we also work on smaller remedial installations where the same quality levels are delivered.
As part of our quality process, we log each fire stopping requirement on our state-of-the-art Boris software and photograph the area before work commences, this is to ensure the client understands the current state of the non-conformity of the fire safety barrier. All Passive Fire Protection installation works are carried out by our fully trained, NVQ Level 2 engineers. Supervision is provided by a minimum of an SSSTS (qualified supervisor) or on larger sites SMSTS (site manager).
If you are interested in ClearView Fire Stopping, please call 01245 214104 now or email [email protected]