Ipswich Town Football Club – CCTV System Upgrade
ClearView is rightly proud to have maintained the analogue CCTV at the stadium for over 15 years. However, the age and degrading performance of the system meant that it was in danger of not meeting the Football Association's (FA) guidelines and standards. Failure to comply could have resulted in postponed matches, additional police presence and loss of earnings. The club decided a system upgrade was essential to maximise the security at the stadium.
Requirements
The club needed clear CCTV images of spectators in the stands to identify any wrongdoers from live and recorded views. These images were required from fixed camera, not pan tilt zoom (PTZ), since PTZ cameras do not give full continuous coverage of all areas. The club and the police required easily accessible and downloadable footage.
ClearView had only three months to design, install and commission the system to ensure that it would be operational before the start of the new season in August 2019. Safe installation of the cameras was the main challenge of the project due to the access requirements to the camera locations at a high level under the stand canopies.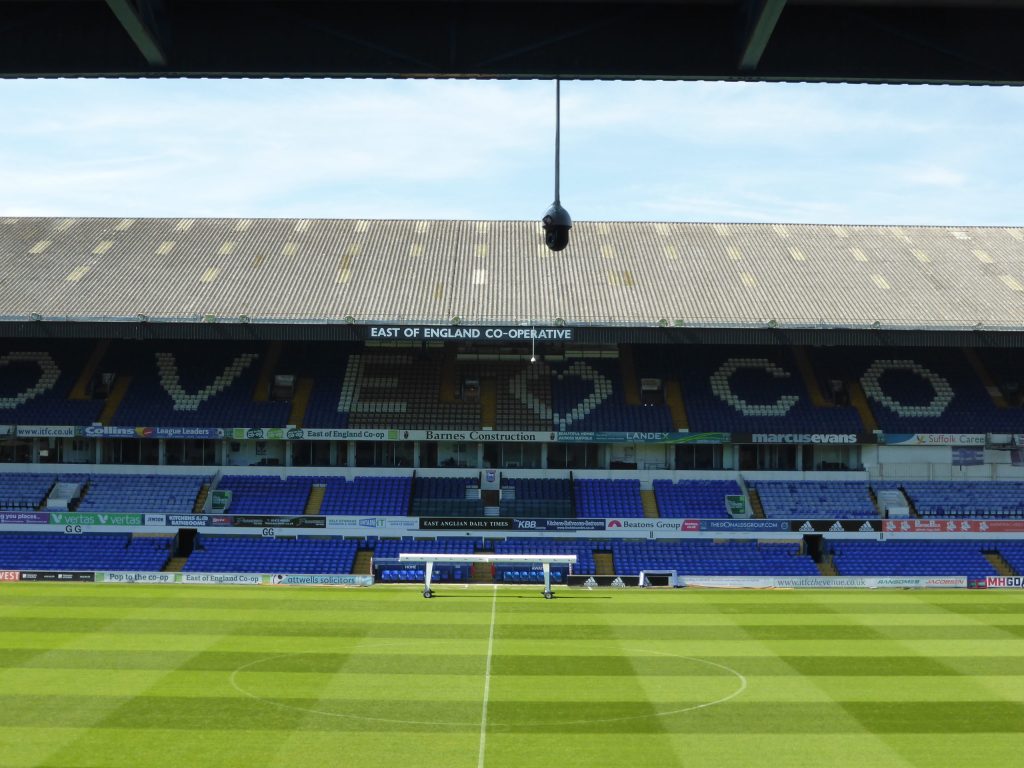 The ClearView Solution:
The club evaluated several different camera resolutions up to ultra-high definition (UHD) devices; this resulted in ITFC choosing the 8MP (4k) cameras which gave excellent identification and recognition images.
The installation of 48 cameras was displayed on three large-screen monitors using the HikCentral monitor wall, "virtual matrix" control. To minimise time and cost, ClearView recommended HikVision 8MP Turbo cameras which can transmit IP images over the existing coaxial cable infrastructure at the ground. Which was beneficial as it reduced the engineers time working at height.
To ensure no footage was missed, all cameras recorded in real-time. It was also critical for capturing fast-moving action in the stands, for example, missile throwing. The system has enabled ITFC to reduce the risks and costs associated with disorderly fans by providing indisputable CCTV evidence of criminal activity. The safety team can now conclude investigations and incidents more efficiently. Overall, the system has made an enormous impact, in-creasing the safety of fans and staff, ensuring an enjoyable and safe spectator experience for all.
"Overall the picture quality is first class, the system is easy to operate and the ability to focus in further on 'live' incidents is a terrific feature. The system has certainly gone a long way to ensuring fans attending matches at Portman Road can do so in a safe and secure environment."
Mick Warden—Match Day Safety Officer at Ipswich Town Football Club.
If you are interested in our CCTV systems, please call 01245 214104 now or email [email protected]